Patricia Smith currently resides in Palm Springs, coming here through a series of amazing synchronicities. My specific story no longer matters since I see the Oneness in everything.
Mercer
My journey started in Mercer, a small town in western Pennsylvania. I came forth on my parents' thirteenth anniversary with my identical twin, Pam. Aren't we cute! We joined our older brothers, Charles and Stephen.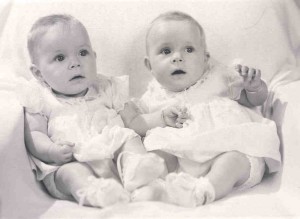 Mom had us at thirty-seven, fairly old to be taking care of four children under the age of four. Dad, two years older, left us in Mom's charge to work an hour away as an office manager. We lived in the same town as Dad's parents who lived right across the street from our Presbyterian Church just off the town square.
My life took some twists and turns. When Pam and I started talking, we spoke in our own language, not unusual for twins. Pam started eventually to speak "normally," but I never made that transition. I became the twin who couldn't be understood, except when Pam spoke for me.
Even with speech therapy, I couldn't speak correctly. I did well in school, being fairly bright. I started playing clarinet in fourth grade with Pam playing the flute. In junior high, I transitioned to the tenor saxophone. Mom played the organ and piano, working as the organist for our church.
College
After my high school graduation, I went to Thiel College and majored in mathematics, following to some degree my father's footsteps. Pam went to Carnegie Mellon and majored in Textile and Clothing.
Mom and I traveled frequently to a cleft palate clinic in Pittsburgh, and the doctors determined that surgery could fix my hyper-nasal voice. To my frustration, the solution came at right before the start of my freshman year and the surgery needed to be delayed until the following summer. The surgery worked and I started dating, marrying Jim, an engineer at a television station in Cleveland.
Cleveland
We married the June after I graduated and I started attending Cleveland State University, studying for a MBA while working as a receptionist for a small data services company. That job ended at the same time that AT&T offered me a programming position. I started with AT&T and enjoyed the job.
Chicago
Jim and I went our separate ways and I moved to Chicago where Pam and I shared an apartment.
I worked for AT&T in Chicago until 1998 when I retired at the age of 46 1/2. I'd recently divorced my second husband and had other things to do, a combination of healing, teaching, and writing.
My spiritual hairdresser, Thor, chastised me after a time for not focusing on the book, At my next appointment, I'd almost finished my first draft. "You're right on track," he said, "but I don't see you staying in Chicago, but somewhere in the Southwest."
My brother from Southern California called the next day to offer his geodesic dome as a rental in the mountains around Palm Springs. I agreed immediately, to my brother's surprise.
I'd been working with Dr. Libby to clear my allergies using NAET (Nambudripad Allergy Elimination Treatment). She recommended that I read Lee Carroll's latest channeled Kryon book. I read about Peggy Phoenix Dubro's The EMF Balancing Technique and thought it might be the healing modality for me. When Dr. Libby suggested that we both attend the class, I agreed and my house sold after I scheduled the trip.
California
I moved to Idyllwild in April 2000 and almost immediately flew to New Hampshire to attend the training with Dr. Libby. My logical mind liked the work, even as I contemplated creating guides to do the work. I'd already met a local group that did a different type of energy work.
I practiced the four phases on my friends that came to visit. Living in a dome with skylights and a panoramic view gave a much different venue for doing the work. After a time, I found Idyllwild to be too far from anywhere – the drive down the mountain took an hour with black ice making one route impossible in the winter.
I found a NAET practitioner to continue the work Dr. Libby had started and through her, I met Bruce McAllister, a writing coach. Joining his non-fiction writing group gave me the awareness to develop my writing to be more engaging.
Through a relationship, I left "the hill" and moved to the Coachella Valley, eventually ending up in Palm Springs. I came from Chicago with two cats, Hope and Peace. I continue my personal growth through a study group of A Course in Miracles led by Jeffrey. When Peace transitioned on 11/22/2010, Jeffrey said, "You've found your peace and Peace could leave." Hope enjoys being an only cat.
The incentives of two different writing contests brought my book Everyone is Everything: Getting Naked in Front of the World to Prove It! to completion.
After reading Raymon Grace's The Future is Yours: Do Something about It! I brought clarity to his stories and created Ask and Let Go(d) as my healing modality, to find my personal health. I very much enjoy the health benefits of Xoçai Healthy Chocolate.
Many people have come and gone. Some brought huge lessons with them. I am grateful for all that are present in my life.
Life is Good! The adventure continues
Sending love and light,
Patricia.